The Challenge
In the real estate industry, success can often be determined by the number of potential homebuyers you attract to your website, and how many of these you turn into genuine leads and sales. However, in a world where everyone is competing to sit at the top of the search engine results pages (SERPs), getting noticed and making sure you stand out from the crowd can be an uphill battle.
Our client, a prominent real estate company in the United States, continuously struggled to get their website on page one of Google, and other search engines. This limitation proved to be a significant issue, depriving them of much-needed organic traffic that had the potential to generate more leads and increase property sales. To overcome this obstacle, they knew they needed a solution that would propel their position in the search engine rankings and increase their overall brand visibility and credibility.
This is where Rhino Rank's team of expert link builders stepped in. In this case study, we will examine how we helped a prominent real estate company develop its backlink portfolio, expand and increase its ranking keywords and organic traffic, and ultimately double its monthly revenue!
The Solution
The first step we took was to get to the bottom of our client's unique challenges and understand the impact they were having on the business. Our in-house team then proposed a solution that would boost their SERP rankings while enhancing online visibility and brand reputation.
The main driving force of the project would be our Curated Links service, a powerful strategy that secures high-quality, contextually relevant backlinks within already established, authoritative content. In addition to this, 6 months into the project, we expanded our strategy by introducing our Guest Posts service, which enables bespoke content to be created with the sole purpose of driving powerful relevancy signals to our client's website.
With a monthly budget of $3,700 dedicated to link building, we designed a comprehensive strategy:
Curated Links to generate powerful 'link juice'
Curated Links Package 4 ($1,900)
6x RD1000+ Curated Links ($1,200)
Package 4 provided a wide variety of different links, allowing us to create a robust and authentic anchor text profile. We strategically utilised lower-grade links for branded and generic anchor texts, which allows us to capitalize on the power of higher-performing RD500+ and RD1000+ links for keyword specific anchor text. This approach allows us to create a backlink profile that appears as natural and organic as possible. 
Guest Posts to drive topical relevancy signals
3x DA30+ Guest Post ($360)
2x DA50+ Guest Post ($500)
Incorporating DA30+ and DA50+ Guest Posts into our strategy allowed us to drive strong topical relevancy signals to the client's website, offering a rounded and comprehensive backlink strategy.
The Strategy
Our comprehensive strategy enabled our client to utilize the full potential of our unique Curated Links and tailored Guest Post services. Over a 12-month period, we executed a complex link building campaign, closely monitoring its impact, and making any necessary adjustments. The results, as detailed below, speak for themselves. 
The reason we started out with solely Curated Links is because they are the ideal starting point for any business, whether they are new to the world of digital marketing or not. This method of link building is extremely effective, especially in the real estate industry, as we are utilizing content that already exists, is indexed, and has amassed authority within Google's index over time – meaning it is a powerful tool that is often undervalued and underutilized. 
Once the foundations had been set, and our client was making their way up the search engine rankings, we introduced Guest Posts. Our bespoke Guest Posts are written by our in-house team of experts before being strategically published via a 100% genuine outreach process. This enabled us to diversify our client's link portfolio and ensure that we found the most suitable sites to promote their services, taking into consideration existing relevant posts and how authentic the sites were.
For both link building methods, what sets Rhino Rank apart from the competition is that we only place links via manual, genuine outreach. This ensures that every link we place utilizes our internal network of webmasters and guarantees that each link appears as naturally and organically as possible. Additionally, our in-house team of experts ensure every link building strategy embodies our core principles of quality, innovation, and expertise. This personal touch has played a significant role in why we earned the trust of over 1,500+ SEO and Marketing Agencies worldwide.
The Results
Ready to hear about how our client's real estate link building strategy performed?
By the end of the 12 months, our real estate client experienced an extraordinary 205% increase in organic traffic. This surge in traffic directly resulted from improved SERP rankings achieved through our strategic link building campaign. However, the campaign's benefits extended beyond increased traffic. This boost also led to an increase in qualified leads, many of which converted into property sales and resulted in our client seeing 102% revenue growth compared to the previous year.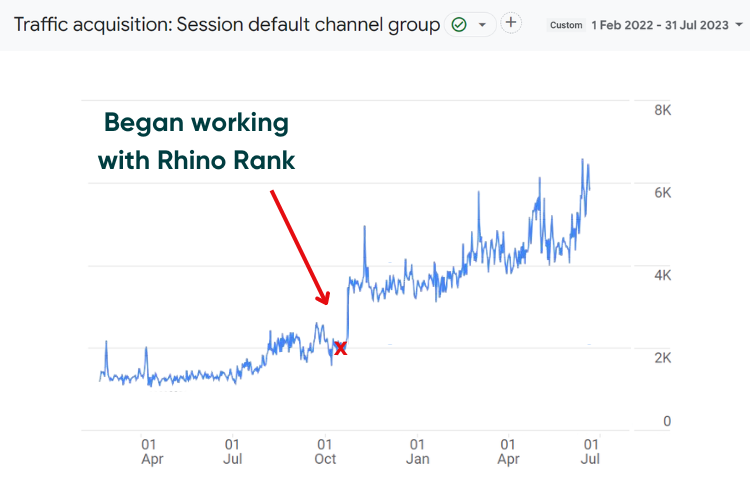 It is therefore no surprise that this client has decided to continue working with the Rhino Rank team, to further develop their link building profile and invest in our Curated Link and Guest Post services. 
In conclusion, this case study demonstrates the power of strategic link building in driving organic traffic, boosting revenue, and increasing profits for those in the real estate industry. At Rhino Rank, we are proud to be a part of our client's ongoing success story, offering them tailored solutions based on their specific goals and requirements.
Kickstart Your Link Building Campaign Today
Schedule a Strategy Call with Our Experts
We'll conduct a comprehensive site analysis and carry out a detailed keyword assessment and traffic evaluation
We'll assess the competitive landscape to identify keyword opportunities
Our expert will then help you select the most impactful anchor text
Book Your Call
Article Contents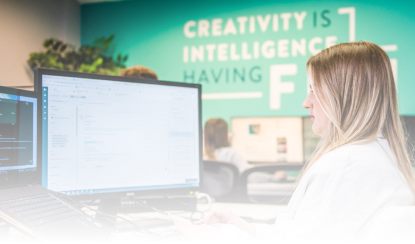 Join 1,500+ SEO's Who Use Our Link Building Service
Create an account