The Challenge
In the ever changing world of digital marketing, the importance of link building cannot be ignored or pushed to one side.
Every marketing agency understands that the credibility you gain from high-quality links will not only elevate a website's search engine results page (SERP) ranking, by signalling to search engines that your website content is valuable, trustworthy and ultimately worth sharing, but it will also bolster your online reputation and authority. This is exactly what our client wanted to achieve. 
Working in the marketing industry, our client understood the importance of a high-quality and robust link building strategy. However, internal time constraints and a primary focus on existing customers meant executing such a strategy was not something they could do alone. They knew they needed to find a link building partner who understood their industry and had the connections to execute a complex backlink campaign.
This is where Rhino Rank stepped in as the ideal link building partner. Outsourcing link building is not only a cost-effective and time-efficient approach to meeting marketing goals, but it also enables you to work with industry-leading experts who have a proven track record in delivering results. In this case study, we unveil how our partnership helped an up-and-coming marketing agency increase its website's ranked keywords, boost its organic traffic and achieve remarkable results in lead generation. 
The Solution
Before any link building could begin, our in-house team of experts conducted a comprehensive site analysis and carried out a detailed keyword assessment and traffic evaluation. This approach enabled our team to help the clients select the most relevant and impactful anchor text for their campaign. At this stage, it was decided that the agency would utilize our Curated Links service, as this method of link building is extremely effective when it comes to driving link authority and link equity.
With a monthly budget of $1,500 dedicated to our Curated Links service, we crafted a detailed link building strategy that was designed to increase brand awareness and authority.
We recommended the following:
Curated Links Package 2 ($975)
2x RD1000+ Curated Links ($400)
Package 2 offers a wide range of links from different Referring Domain (RD) sources, ensuring we deliver links from pre-existing authoritative sites, whilst maintaining an organic and natural backlink profile. The RD1000+ Curated Links were then utilized to construct backlinks using the most relevant and powerful keyword anchor text, ensuring our client got the maximum value for money.
The Strategy
We deployed an extensive strategy that utilized our one-of-a-kind Curated Links service to its fullest potential.
Over a period of 6 months, we executed a structured link building campaign, fine-tuning placements and anchor text as the campaign evolved. The results, as shown below, are undeniable.
Unlike traditional link building methods, our Curated Links service marks a new era in the art of editorial link outreach. Our dedicated in-house outreach team personally reach out to real webmasters, who own real websites, in order to secure our client's link within pre-existing, authoritative and topical content. This approach has several key advantages:
Faster, Long-Term Results: Curated Links utilize existing, indexed, and authoritative content, meaning our clients witness results as soon as the articles are reached. This process is typically faster at delivering results compared to more traditional link building methods.
Powerful Topical Relevancy: Our team are constantly trawling the internet in search of highly relevant content that lines with our client's specific niches. This manual process ensures that backlinks are only placed in content that is contextually relevant, thereby maximizing SEO impact and driving powerful results.
100% Manual Outreach: Our commitment to manual and genuine outreach means we can guarantee every link appears natural and organic. 
As mentioned above, a key aspect of our strategy was the careful selection of anchor texts. The words used in the anchor text often aid in determining which search terms the page will rank for. So, it's essential that the right keywords and phrases are used to give the site the best chance of securing top rankings on search engines like Google, Yahoo, and Bing.
The marketing agency was able to provide us with a strong anchor text profile, which we further developed to ensure it contained a good mix of branded, generic, and keyword-rich terms. This approach ensured the contextual relevance and natural appearance of all the links we went on to place. 
However, before a link is published, our Quality Assurance team will check every link, and its complimentary supplemental content, to ensure it meets our internal quality standards. This human touch is a key part of all Rhino Rank strategies and is one of the reasons we're trusted by over 1,500+ Marketing Agencies and SEO experts worldwide. 
The Results
Just 6 months after partnering with Rhino Rank, the marketing agency's ranking keywords increased by 133%, with the website now ranking for over 2,800 keywords and phrases.
This in turn resulted in a substantial jump in monthly organic traffic compared to the previous year and meant that the agency was receiving more customer leads than ever before.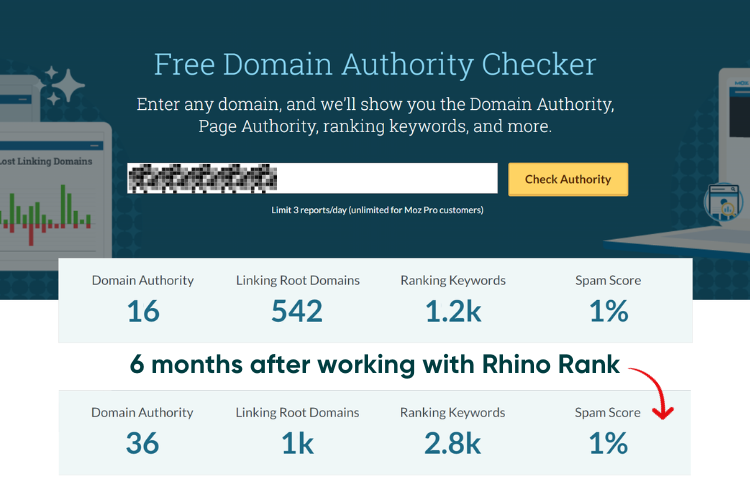 With results like this, it is no surprise that the marketing agency has decided to continue working with the Rhino Rank team and include link building as a permanent part of their own SEO strategy. They continue to invest in Curated Link, and as they continue to move up the SERPs rankings, they have decided to invest in our Guest Posts service to further enhance their online visibility and drive even more traffic to their site.
In conclusion, this case study demonstrates that creating high-quality backlinks is one of the most effective ways to elevate search rankings, grow organic traffic, and take your website's visibility to new heights. So, if you're a digital marketing agency or SEO specialist and are on the lookout for a trusted and expert link building partner, get in touch and see how we can transform your online presence.
Kickstart Your Link Building Campaign Today
Schedule a Strategy Call with Our Experts
We'll conduct a detailed site audit and conduct a comprehensive keyword assessment and traffic evaluation
We'll carry out competitor research in order to identify new keyword opportunities
Our in-house team will then help you select the most powerful and topical anchor text
Book Your Call
Article Contents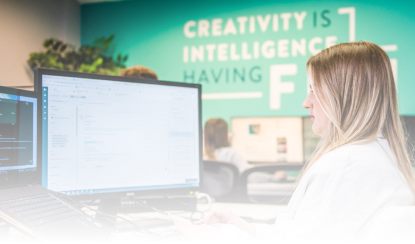 Join 1,500+ SEO's Who Use Our Link Building Service
Create an account