The Challenge
In the fiercely competitive world of online shopping, many ecommerce websites often struggle to reach the top of search engine rankings, meaning they are continuously losing out on valuable brand visibility and customer engagement.
Our client, an ecommerce retailer specializing in niche products, was facing the same challenge. Despite offering high-quality products and excellent customer service, their website struggled to gain online visibility and their product sales had stagnated. They knew that in order to start ranking well for competitive, profitable terms, they needed the support of an established link building agency. 
Enter Rhino Rank. We specialize in creating custom-tailored ecommerce backlinks that are designed to elevate brand authority and take a store's online visibility to new heights. In this case study, we showcase how our strategic link building campaign, which had been tailored to our client's goals and product niche, helped them navigate the competitive landscape of the ecommerce industry, boost their online visibility and witness a ground breaking surge in organic traffic levels.
The Solution
When developing the client's bespoke link building campaign, the Rhino Rank team conducted an in-depth analysis of our client's traffic, keywords, and backlinks. During this phase, the site audit highlighted that the ecommerce company's organic traffic was virtually nonexistent. In addition, despite them having a healthy number of pre-existing backlinks, their average keyword placement on Search Engine Result Pages (SERPs) was consistently in the 50+ bracket, meaning that while they were technically ranking for their target keywords they were buried so deep in the search results that their website remained hidden from potential customers.
With a monthly budget of $1,800 dedicated to our Curated Links service, we devised a detailed link building strategy that was specifically designed to increase their visibility and organic traffic.
We recommended the following:
Curated Links Package 4 ($1,425)
2x RD1000+ Curated Links ($400)
Package 4 offers an extensive and balanced range of links from different Referring Domains (RDs), ensuring we deliver links from pre-existing authoritative sites, whilst maintaining a natural and organic backlink profile. The RD1000+ Curated Links were then strategically utilized to construct backlinks using the most relevant and powerful keyword anchor text. This combination of Curated Links ensured we delivered links that generated valuable organic traffic back to our client's website.
The Strategy
We put together a comprehensive strategy that harnessed the full potential of our unique Curated Links service.
Over 6 months, we executed a detailed and methodical link building campaign. During this time, our dedicated Account Management team assessed the impact of each link we placed, and fine-tuned future placements and chosen keywords as the campaign evolved. 
The reason the Curated Links service was chosen for this client was due to its proven effectiveness in ecommerce link building. Curated Links allowed our client to grow backlink profiles for individual product pages and categories, and every link we placed was carefully selected based on our client's niche before being seamlessly integrated into relevant and topical content. In addition, not only is this pre-existing content already indexed, but it has also developed strong page authority over time, which our client could then capitalize on. 
What sets Rhino Rank apart from other link building companies is our unwavering commitment to our core principles of quality, innovation, and expertise. We are dedicated to developing long-lasting partnerships with all our clients, creating strategies based on their unique needs and consistently delivering measurable results to drive success and exceed expectations. As you'll see in the results below, this is exactly what we did for this ecommerce client. 
The Results
Just 6 months after partnering with Rhino Rank, our ecommerce client witnessed an extraordinary 1,900% increase in organic traffic. During this period, our client also saw a 42% growth in the number of referring domains and a 164% growth in the number of ranked keywords.
However, the campaign's benefits extended beyond traffic numbers. This boost in website traffic also led to an increase in the number of online orders being placed. This meant that by the end of the 6 months, our ecommerce client had seen an astonishing 177% increase in orders for their most popular product.
Therefore, it is without a doubt that the implementation of Rhino Rank's Curated Links service led to remarkable improvements for our client, with their website now ranking on the first page of Google for several high-value keywords, increasing visibility and leading to the client's brand authority within their niche skyrocketing, which resulted in increased trust levels among current and prospective customers.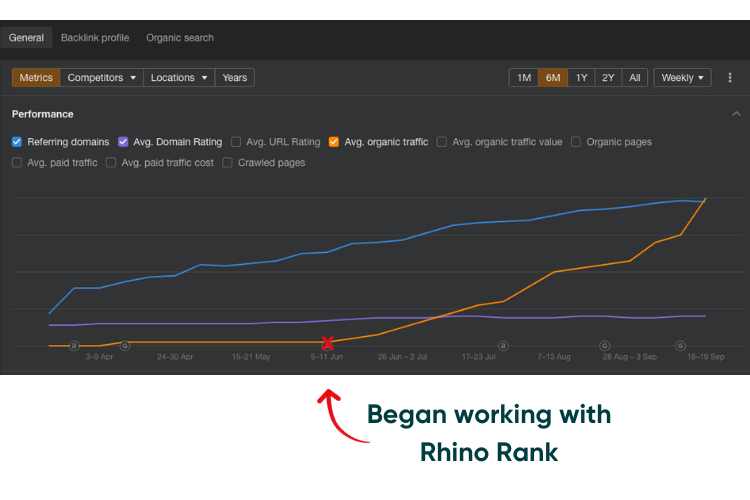 With results like this, it is no surprise that the ecommerce brand has decided to continue working with the Rhino Rank team. They are committed to further developing their link building profile, maintaining their investment in Curated Links and will soon be utilizing our Guest Posts service to further enhance their online visibility and drive even more organic traffic to their site.
In conclusion, this case study demonstrates the power of Rhino Rank's Curated Links service for anyone working in the ecommerce sector. By strategically building high-quality backlinks, our client successfully distinguished themselves in a competitive market and achieved remarkable growth. In an increasingly digital world, the significance of effective SEO strategies cannot be downplayed, and this case study demonstrates the power link building has for ecommerce businesses.
Kickstart Your Link Building Campaign Today
Schedule a Strategy Call with Our Experts
We'll conduct a detailed site audit and a comprehensive keyword assessment and traffic analysis
By analyzing your competitors, we'll identify new topical keyword

opportunities

Our in-house team will guide you in selecting the most powerful and relevant anchor text for your links
Book Your Call
Article Contents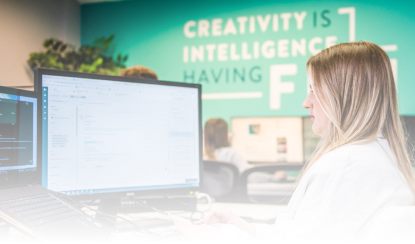 Join 1,500+ SEO's Who Use Our Link Building Service
Create an account