The Challenge
It's a well known fact that high-quality backlinks are one of Google's top search ranking factors.
Many businesses attempt to "go it alone" when first trying to build their backlink portfolio. However, due to link building being a very time-consuming and laborious process, this isn't always the most effective use of a business' time and resources. Instead, companies can experience great benefits by outsourcing link building. Not only is outsourcing a cost-effective and time-efficient way of hitting marketing targets, but it also provides long-term scalability. Our client understood this, and when they saw their website traffic nose dive, they knew they needed the help of an expert link building agency.
Their primary goal was to recover their lost traffic, as well as improve their overall search engine rankings.
In this case study, we will demonstrate how we helped a high-end car dealership not only meet but exceed its website traffic targets! 
The Solution
Before we began placing backlinks, our in-house team of experts conducted a comprehensive site analysis, performed a detailed keyword assessment, and evaluated the client's current website traffic. The analysis showed that the dealership had experienced a sharp decrease in organic website traffic. Upon closer inspection, we discovered this was caused by an influx of poor-quality, spammy, link farm backlinks which had been generated by a previous third party. This triggered penalties from Google, which pushed our clients' websites down the search engine rankings.
At Rhino Rank, we only work with real webmasters to secure placements for our links, ensuring that each link is placed on a real website, owned by real people. This approach guarantees link quality and relevance while ensuring each link appears natural and could be considered "White Hat". With this approach, we were confident we'd be able to restore our client's online reputation and boost their website's visibility. 
With a monthly budget of up to $500 dedicated to our Curated Links service, we devised a simple yet effective link building strategy.
We recommended the following:
Curated Links Package 1 ($475)

4x RD20-100 links
2x RD100-250 links
1x RD2050-500 link
1x RD500+ link
Package 1 is our base level Curated Links package. By utilizing this link selection, our client experienced an 8% pre-packaged discount, which meant they got the most value for every dollar spent. The diverse range of Referring Domains (RD) included in this package ensured that we delivered links from pre-existing authoritative sites, whilst developing an organic and natural backlink profile. 
The Strategy
We devised a comprehensive strategy that leveraged our unique Curated Links service to its fullest potential.
Over a period of 12 months, we implemented this structured and methodical link building campaign, carefully monitoring its impact and making adjustments as necessary. The results, as you will see below, speak for themselves.
As mentioned above, a key aspect of our strategy was the careful selection of link placements. In order for every link to have the most impact, we were meticulous when selecting the correct website partnerships and ensured that all our high-quality backlinks were acquired through a manual outreach process tailored to our client's website, niche, and the automotive industry.
Not only that, but before a link is published, our Quality Assurance team will review every link, and its complimentary supplemental content, to ensure it meets our internal quality standards. This human touch is a key part of all Rhino Rank strategies and embodies our core principles of quality, innovation, and expertise. 
The Results
Just 6 months after partnering with Rhino Rank, the car dealership witnessed its organic traffic skyrocket and return to "normal" levels. However, the success story didn't end there. Over the following months, with more and more high-quality links being placed on reputable, authoritative websites, our client's organic traffic reached record breaking numbers. 
Since the time the first Curated Link was placed, the dealership has seen its organic traffic increase by 292%!
Due to the implementation of high-quality links, the site has also seen its overall spam score decrease and its website domain has also seen a nice little boost as well.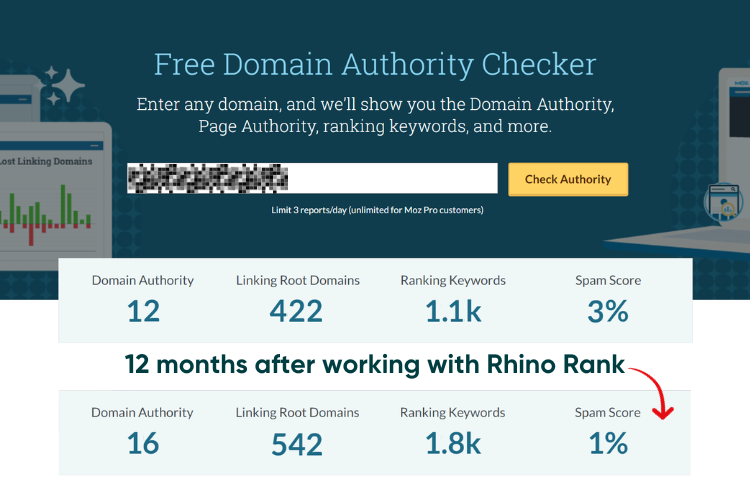 With results like this, it is no surprise that the car dealership has decided to continue working with the Rhino Rank team. They have now increased their investment in Curated Links to $1,200 a month, moving to our 'Curated Links Package 2,' with an additional RD1000+ Curated Link being allocated each month to drive even more link value and link juice to their website.
In conclusion, this case study demonstrates the power of strategic, long-term link building in driving organic traffic and boosting keyword rankings, both of which will have an undeniable impact on the number of leads and sales a business generates. At Rhino Rank, we are proud to work with clients in the automotive industry and help them take their business's online presence to the next level.
KICKSTART YOUR LINK BUILDING CAMPAIGN TODAY
Schedule A Strategy Call With Our Experts
We'll conduct a thorough site audit and a comprehensive keyword assessment and traffic analysis
By analyzing your competitors, we'll identify relevant and powerful keyword

 

opportunities

Our in-house team will guide you in selecting the most appropriate anchor text for your links
Book your call
Article Contents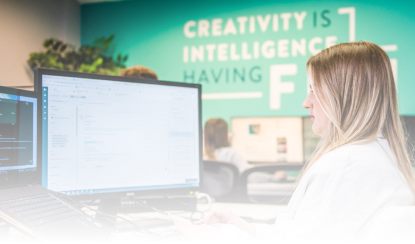 Join 1,500+ SEO's Who Use Our Link Building Service
Create an account